The six digital photography books that I always recommend to those who want to learn how to take better photos
Books are one of the greatest treasures that photographers have. If we want to learn something they are always there. Are not as dynamic as a video, but it is an infallible reference source that will always be at your fingertips. Some can age badly, become obsolete as soon as they leave. But today we are going to present digital photography books that you will always have in your library.
A good photography book is one of the best supports we can have when we sit in front of our computer screen or want to improve our image with the help of a mobile phone. It is true that we can go to YouTube videos or any other platform, but if you do not have a base you can get lost with them.
You can touch, underline, reread a book as many times as you want. Videos can be a perfect support for books, but they are not a substitute for them. We have to find the perfect balance to learn to master any photographic program or tool.
'Complete Guide to the Digital Image' by Hugo Rodríguez
If we really want to know what digital photography is, all the things you never dared to ask, like what a bit is, or how to compress a file, here are all the answers with summaries at the end of each chapter.
It's a complete manual, much more technical than those you can find in other publishers. But with a direct and simple language that does not force you to read it several times to understand it. It is a study manual, perfect as a reference book in photography faculties and schools. And of course for our personal library.
Complete Guide to Digital Imaging 5th Ed.: 1 (BIT & PIXEL)
'The fundamentals of photography. High Quality Photography' by José María Mellado
It is the latest version of a book that marked a before and after in digital photography in Spain. He was the first Spanish author who told, with photographic vocabulary, how Adobe Photoshop works. It is true that has not been updated since the 2017 versionbut everything we found in this book is still 100% useful.
It is a voluminous book, illustrated with photographs in his personal style. And the key is there you have to look at their workflow to get a good result. And the best of all is that it is based on the work that many of us used at the time of the film, but totally adapted to the digital environment.
The fundamentals of photography. High Quality Photography: Adobe CC 2017
'Manipulate your digital photos with Photoshop CC' by Scott Kelby
When this book came out Scott Kelby, one of the international gurus of digital photography, I did not hesitate to buy it. It was the first digital photography book i had. And it helped me solve a lot of things back then.
The latest edition is a recipe book for getting just about anything you need with Adobe Photoshop. You're not going to understand the famous program, but you're sure to learn how to do all kinds of effects. It is a kind of recipe book to solve any problem.
Manipulate your digital photos with Photoshop CC. Edition 2015 (Photoclub)
'Photoshop CC 2014 for Photographers' by Martin Evening
It is the adobe photoshop bible, without a doubt. It is true that it has not been updated for a long time and it seems that it is not worth buying it anymore. But if you want to know how everything (and when I say everything is everything) works in this program, don't hesitate to buy it. The surprise has been capital when I have seen the current price.
It is the only book in which I have found an answer to any doubt. If you don't know what a tool concrete that does not appear in any video, there you have it for sure. It is a pity that it is not in digital format. More than a manual, it is a complete encyclopedia in a single volume.
Photoshop CC 2014 for photographers (Photoclub)
'Digital Post Processing Workflow Manual' by Juergen Gulbins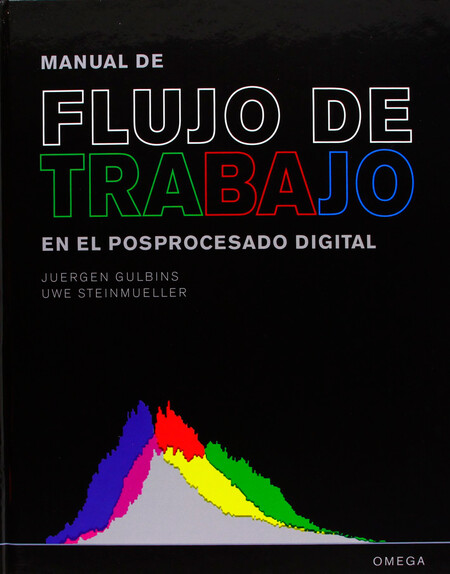 When I recommend it, many of my students they put their hands to their heads. But if it's very old, if it's very bulky… Maybe it's one of the books I consult the most when I need to know something concrete within digital photography. Despite being more than ten years old, an eternity in this field.
Have five index pages full of information: color management, backups, printing… And very few things have changed on these issues. And it proposes various workflows depending on our needs. It is probably the most complete book of all the ones I have listed here. Of course, it would be wonderful if they released a new edition, or better yet, if they translated all their books, such as 'Monochrom', more than 400 pages dedicated to black and white photography.
WORKFLOW MANUAL IN DIGITAL POST-PROCESSING (PHOTO, FILM AND TV-PHOTOGRAPHY AND VIDEO)
'Black and White Digital Photography' by Gabriel Brau
For the end I leave a book that is focused on one of the most technical specialties of digital photography, which is the black and white. Gabriel Brau He has written several books on this subject. As is his custom, he teaches us the technique first and then we learn the practice with more than 50 photographs.
It's a very complete book, which helps us learn a very complete black and white workflow, with many options for a creative photographer. Now that I realize it is the most modern of all that I have presented. But the process that counts can be done without problems with older versions of Adobe Photoshop.
Black and white digital photography: Get to make 50 spectacular images: 26 (PhotoRuta)
The next time you go to a bookstore, do not look for the publication date to buy a digital photography book. The secret is to look at the content. And in these books there is no planned obsolescence, really.
In Xataka | Photoshop's most underrated and least known tool, according to a professional photographer
Books are one of the greatest treasures that photographers have. If we want to learn something they are always there.…
Books are one of the greatest treasures that photographers have. If we want to learn something they are always there.…