Best portable photovoltaic solar panels, which is better?
An orchard, your caravan or van, the garden… if you want to power your devices without depending on how close you have a plug and also save on your electricity bill, you can always choose get some portable solar panels.
Much simpler, more affordable and easier to install than domestic photovoltaic self-consumption systems, which require an authorized installer, with these kits you can obtain electricity for your caravan or van, the garden, your orchard or even for emergencies. In this buying guide for portable photovoltaic solar panels We help you choose your ideal model and we offer you a careful selection of recommended photovoltaic kits.
How to choose a good photovoltaic solar panel
its operation roughly is as follows: when the sun's rays hit the photovoltaic cells made of semiconductor materials on the plates, convert solar energy into electricity through a physicochemical reaction. This generated direct current is stored in batteries to later convert it into alternating current through an inverter, which is used by most devices, appliances and household appliances.
Portable photovoltaic solar panel kits are smaller and offer less power than static ones, but they are suitable for charging devices such as your smartphone, tablet, laptop, cameras, flashlights, among others. As they are portable, you can clip them where you need them most and change them on demand, for example on the roof of a shed, on the roof of your van or even hung in your backpack if you opt for a "pocket" model.
When choosing a portable solar kit consider:
The type of cells used. They can be monocrystalline (they stand out for their efficiency and long useful life, they are black), polycrystalline (they are blue, less efficient but more affordable) and finally thin layer, in which case they are not made up of a union of several individual cells, but of a sheet, standing out for its flexibility and adaptability.

how much electricity do you need, or in a practical way, the power that it can supply in good sunlight conditions (W). It is common for portable solar panels to be available in different powers, so you will have to choose the one that best suits you. Keep in mind that the models with more power are larger and more expensive, so if your budget is tight, you have little space or your energy needs are low, a simpler model may be enough. Thus, with 100W it may be enough for phones or tablets, but if you are going to charge several elements at the same time and some of them are more energy demanding, it is better to go up to 200W. However, in this scenario of use, a good balance between price, portability and functionality is 100 – 200 W. Finally, and if you need more, you can always get models that allow you to connect several kits simultaneously.

Output voltage. Although most portable solar panels will work for you to charge small devices, such as your phone or tablet, not all of them are suitable for charging a laptop or larger devices. To avoid disappointment, make sure that the input voltage of the device in question is the same as that specified in the technical data sheet of the solar panel. As data, for telephone and others it works with 5V, but for a laptop the range goes from 12 to 24V.

Once you have electricity you have two options: consume it immediately or store it. In this sense, the simplest units have USB and other outlets that will allow you to charge your devices instantly, although it is best to have a device with a converter and battery (which you can buy separately or bet on a portable charging station ) that allow you to store energy and be able to use it later when you need it, for example when it gets dark or there is simply not enough light. However, it is a good idea to use a battery as an intermediary between the solar panel and your device to ensure a regular flow of electricity.

Connectors and adapters. Although the basic and essential thing in this type of device is that they have a USB-A port to charge your phone (at least 5V and 1A), it is relatively common for them to include other connectors, for example for laptops, car battery , etc. Look not only at what it fits, but at its output specifications that we referred to above.

Design: look for portability and resistance. If you want to carry it in a backpack, you want it to be as compact as possible, but if you are going to take it in your van for a getaway or have it on your country estate, then you can afford bigger, heavier and bulkier models. Depending on what you need, check the size, weight and design of the complete kit. Finally, although they are designed to remain outdoors, not all of them resist the action of water in the same way.

Charging and security system. If you are going to use them to directly charge your devices, it is interesting that they have protection systems for their batteries to avoid the effects of electrical mishaps such as overvoltage.
Recommended models
Lightweight and affordable for its specifications, this Dokio solar panel kit (139 euros) with monocrystalline cells and up to 100W. Among its assets, its tight weight of 2.4 kg makes it ideal for transporting and placing it on your getaways, since it also has IP65 certification against water and dust. In the kit you will find, in addition to the boards, a controller with two USB outputs, five different adapters and clamps.
Dokio Foldable Solar Panel Kit Lightweight Monocrystalline Solar Control 2 USB Output 100W 12V for RV Boat (Portable)
for basic needs, this portable X-DRAGON portable solar panel of 70W (159 euros) and 23.5% efficiency according to manufacturer comes with two USB ports (5V / 2.4A per port) and a DC output (18V / 3A) for laptops , car battery or charging stations. You can also mount up to four panels to reach up to 280W. It is moderately light and compact (93.5 x 51 x 0.5cm and 1.38 kg). It comes with five connectors and clips for the car.
X-DRAGON Chargeur Panneau Solaire, Chargeur Portable Pliable 70W (USB 5V Avec SolarIQ 18V DC Port Parallèle) Chargeur pour Ordinateur à Compatible Avec Ordinateur Générateur de Téléphone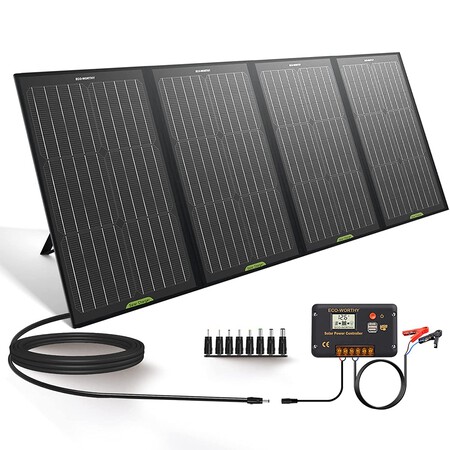 A solution quite interesting in cost benefits is this 120W ECO-WORTHY kit (199 euros), with a DC cable and up to 10 adapters for different specifications (car battery clamps included), as well as a controller with an LCD screen so that you can directly plug your small devices through two USB ports or use a charging station. With a weight of 4.2 kg and a travel bag, they are an interesting option for camping.
ECO-WORTHY 120W Foldable Portable Solar Panel Kit for Power Station, RV, Battery, Solar Generator DC Output with 20A Controller
This 100W ALLPOWERS solar kit (219 euros) will be interesting for occasional campers due to its lightness, ease of use and contained price for what it offers.
The unfolded case is itself a solar panel that includes a dual 5V USB and 18V DC outlet so you can plug in both small devices and laptops, power your car battery or even a portable charging station. According to the manufacturer its efficiency is 23.5%.
ALLPOWERS 100W Foldable Solar Panel Portable Solar Charger (5V Dual USB+18V DC Output) for Outdoor,Camping,Portable Power Station,Laptop,12v Car,Boat,Hiking
The Goal Zero Nomad 100 (399 euros) is a solvent, quality and reputable option with a vocation for camping but off-roading.
With a nominal power of 100W and an output voltage range of 18 to 22V. It is made of monocrystalline silicon, weighs just under 4.6 kg and unfolded is 1.5 meters wide and just over half a meter long.
You can combine it with Yeti charging stations such as the 500X (839 euros) of 505 wh or the Sherpa, like this 100C (305 euros)
Goal Zero Nomad 100, Unisex Adult Solar Panel, Black, 100 Watt
If lightness is not so important and you prefer panels capable of "trapping" more energyfor example because you are going to have it in a place like a farm or you are going to take it in the van, this EF EcoFlow 160 W solar panel (399 euros) weighs 7 kg and is made up of 32 monocrystalline silicon cells with a high conversion efficiency of 21-22% (depending on the manufacturer) and IP67 certification against dust and water.
It includes a case with a support to support it, so you can orient it in the direction you want and mount up to 3 panels simultaneously.
With wiring included, you can complete your purchase with brand charging stations such as Delta, River or River Max 600W (649 euros).
EF ECOFLOW Portable Solar Panel 160W Portable Solar Panel for EFDELTA, Chainable Foldable Solar Charger for EFDELTA IP67 Waterproof Power Station for Camping, Outdoor
Unlike other folding models, this Goal Zero Boulder 100 (250 euros) is a solar panel with rigid aluminum frame, strong but light. The plate in question is made of tempered glass with monocrystalline silicon cells, with protections in the corners for more safety against possible blows and has a support foot.
In this sense, it is not so much a model to carry in the backpack, but rather to be able to move easily, for example to pull out when you're in the van or on a country estate. In fact, at 9.1 kg it is one of the heaviest in the selection (yes, its length is approximately 1 meter and it is 70 cm wide).
This plate can be used not only for small devices such as tablets or mobile phones, but also for cameras, laptops or lighting. It supplies up to 100W, which you can store in charging stations like the Yeti in your own home. With output voltage ranges between 14 and 22V.
Goal Zero Boulder 100 Solarpanel
More offers
If you become Amazon Prime, you have a 30-day free trial (after 36 euros per year) to enjoy free fast shipping, priority access to offers, services such as Prime Video, Prime Music and unlimited photo storage. Also, if you are a student, becoming a Prime Student costs half and you have a 90-day trial. You can also try services like Kindle Unlimited or Kindle Unlimited for free for 30 days. Audible.
You can be up to date and at all times informed of the main offers and news of Xataka Selection in our channel of Telegram or in our profiles Twitter, Facebook and the magazine flip board.
At Xataka Selección we publish the best offers in technology, computing and electronics from the main internet businesses. Prices and availability may change after publication.
Some of the links in this article are affiliated and can bring a benefit to Xataka
An orchard, your caravan or van, the garden… if you want to power your devices without depending on how close…
An orchard, your caravan or van, the garden… if you want to power your devices without depending on how close…